☀️SMILE dominates as BROS is a no-show at the box office
NORTHMAN director sets next pic / NBCU Comms exec shakeup / DISNEY sets truce with activist investor
Mornin! This is Sean McNulty and here's the Hollywood + Media news to know on MONDAY October 3, 2022.
Where SNL came out of the gate hot on Saturday night, and Miles Teller reminded everyone A) he should be doing more comedy, and B) there's a really solid option available when the "Chris"es pass on your action comedy project.
Impressions… a dancing CHARMIN bear… a bisexual "Grimace" - the range was impressive 👏. But looks like he's been an SNL superfan for quite some time as we saw in a pretty great monologue.
PLUS: #EmancipationWatch2022 had its next development this weekend - holding its first public screening as part of the Congressional Black Caucus Foundation's Legislative Conference in DC, with Will Smith & director Antoine Fuqua on site… leading folks to think APPLE will roll the dice this year on the release (vs. having just held a screening for a movie that won't come out for another year).
AND: Even more surprising about Trevor Noah's departure announcement last week from "The Daily Show", he had apparently just re-upped his deal earlier this year according to THR. No word on how all of this will work itself out just yet.
ALSO: Kim Kardashian paid $1.26 Million to settle issues with the SEC over unlawfully promoting Crypto. #FortuneFavorsTheBrave
IN TODAY'S EDITION:
The weekly Box Office breakdown as PARAMOUNT marketing continues to be 🔥 in 2022.

FOCUS doing "The Northman" director follow-up, as leads appear to be set.

CINEWORLD closes some underperforming theaters.

DISNEY sets truce with activist investor and more.
CORRECTION:
Little fix on one piece of data from the AMAZON "Thursday Night Football" audience analysis on Friday - the difference of the median annual income between the AMAZON viewer vs. the FOX viewer last year is $13k… not uh, $13. Oh and apologies to Vivek Couto from MEDIA PARTNERS ASIA for adding an extra "u" in his name. My disregard for my monthly vowels budget is out of control.
---
📽 THE SILVER SCREEN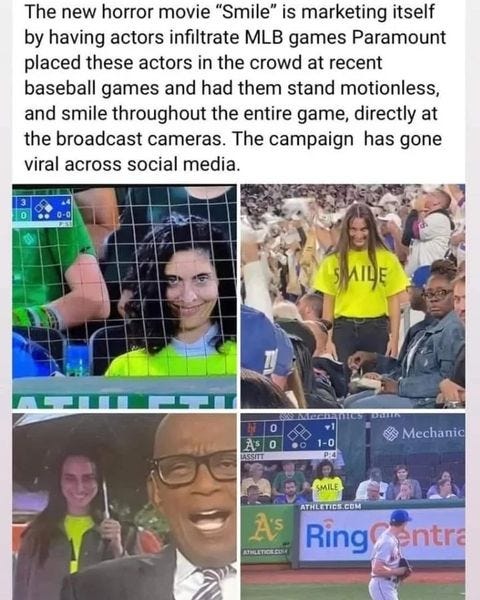 Thx
Deadline
for highlighting this creepy Marketing activation with MLB - now that's a very dedicated PAR intern.
This post is for paid subscribers