Discover more from The Ankler.
Don't eat lunch in this town without it
Over 62,000 subscribers
Ralph Nader's AI Warning to Hollywood: 'Devastating' and 'Moving Very Fast'
The legendary activist and SAG-AFTRA member says his outreach to Fran Drescher has gone unanswered: 'The studio people don't have the high moral ground'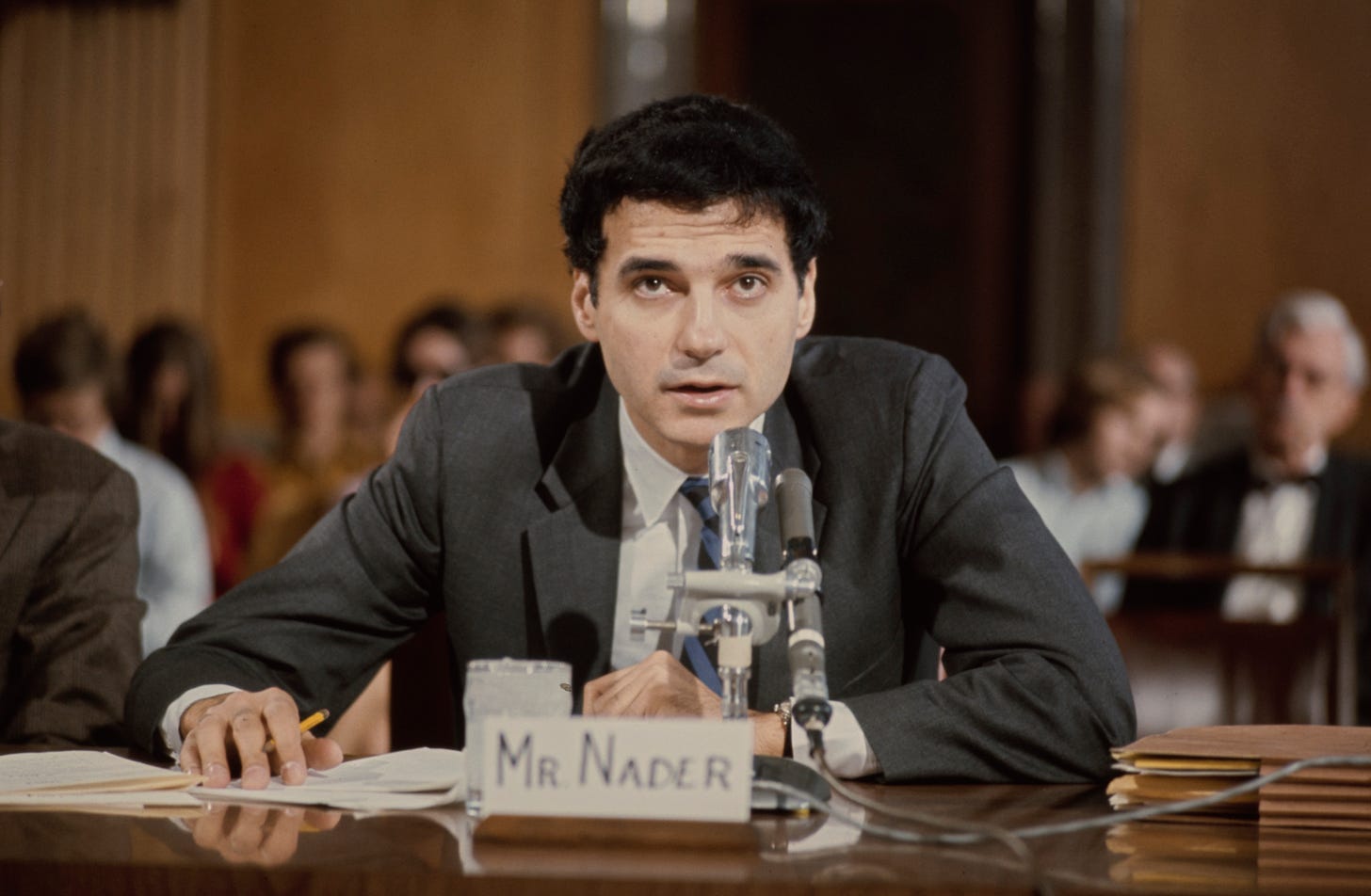 On Tuesday, at L.A. hotspot République near SAG-AFTRA headquarters, studio honchos Bob Iger, David Zaslav, Donna Langley and Ted Sarandos appeared in a good mood, dining together on a break from the negotiating room.
But Ralph Nader would not consider that a power table. Instead, the legendary consumer advocate — and SAG-AFTRA member — believes union members hold the cards. "They have the moral high ground," he tells me. "The studio people don't have the moral high ground. I mean, when you consider what these guys are being paid, compared to what their employees are being paid, or whatever you call the different roles. It's really staggering, the gap is staggering." 
So who's listening? His career challenging power has made him one of the most influential social critics and advocates in America for decades, often effecting legislative change. That position also has made him one of the most ghosted gadflies in modern history as well. In fact, the former Green Party presidential candidate (whom many blame/credit with Al Gore losing the election to George W. Bush by splitting the Democratic vote) has published, literally, entire books composed of unanswered letters, including Return to Sender: Unanswered Letters to the President, 2001-2015.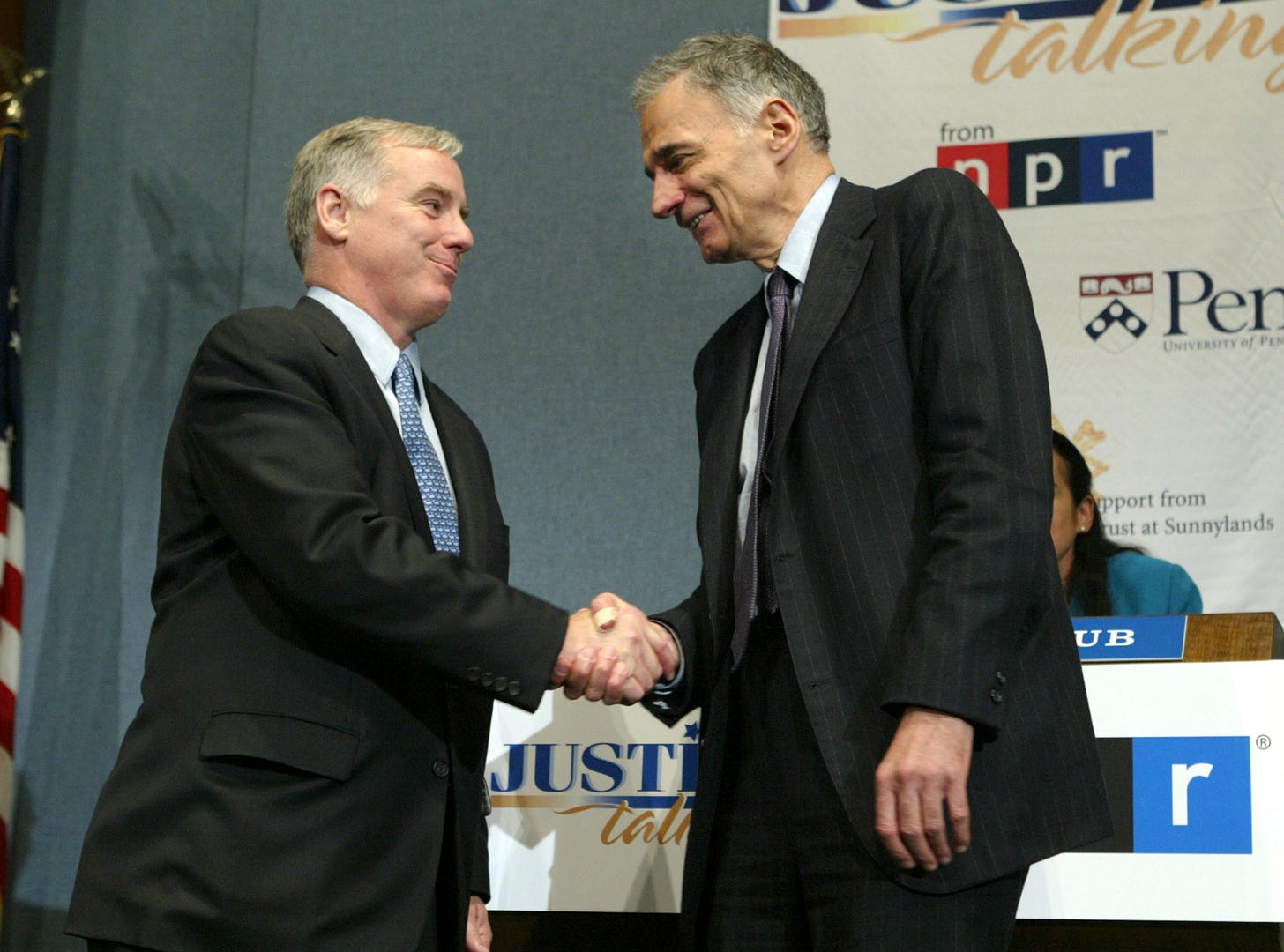 But today, he's got one unanswered letter in particular he's fired up about: a missive to another kind of president, Fran Drescher. On Tuesday, from his base in Washington D.C., he shared his unanswered letter with The Ankler to the SAG-AFTRA president.
"My role is simply as a union member on strike, how do you like that?" he tells me. (Having joined a pre-merger AFTRA some 45 years ago, he had appeared on network morning shows and the 1977 reboot of Laugh-In.) But today, at 89, he wants to talk about two topics of pressing importance to him in the ongoing negotiation: AI, and the ways he feels SAG-AFTRA hasn't negotiated effectively, ignoring the outside network of influence — board directors, the universities where studio executives are board members, pension funds and investors — that could have sway.
---
THE AI ELEPHANT
"This is a struggle that's going to mean something to millions of workers in the country," Nader says, because "this is one of the first few real negotiations over AI. (Automation is one of the topics currently at play for the striking United Auto Workers, who have reportedly come to a deal with Ford at the time of this writing, and is growing into a looming worry for workers in other sectors.)
"If they settle too quickly, they may not get another chance as the forces of automation lock in and force them up against the wall," he continues. "This AI thing is particularly devastating for this industry, as you know, and it's moving very fast." 
---
Nader's letter to Fran Drescher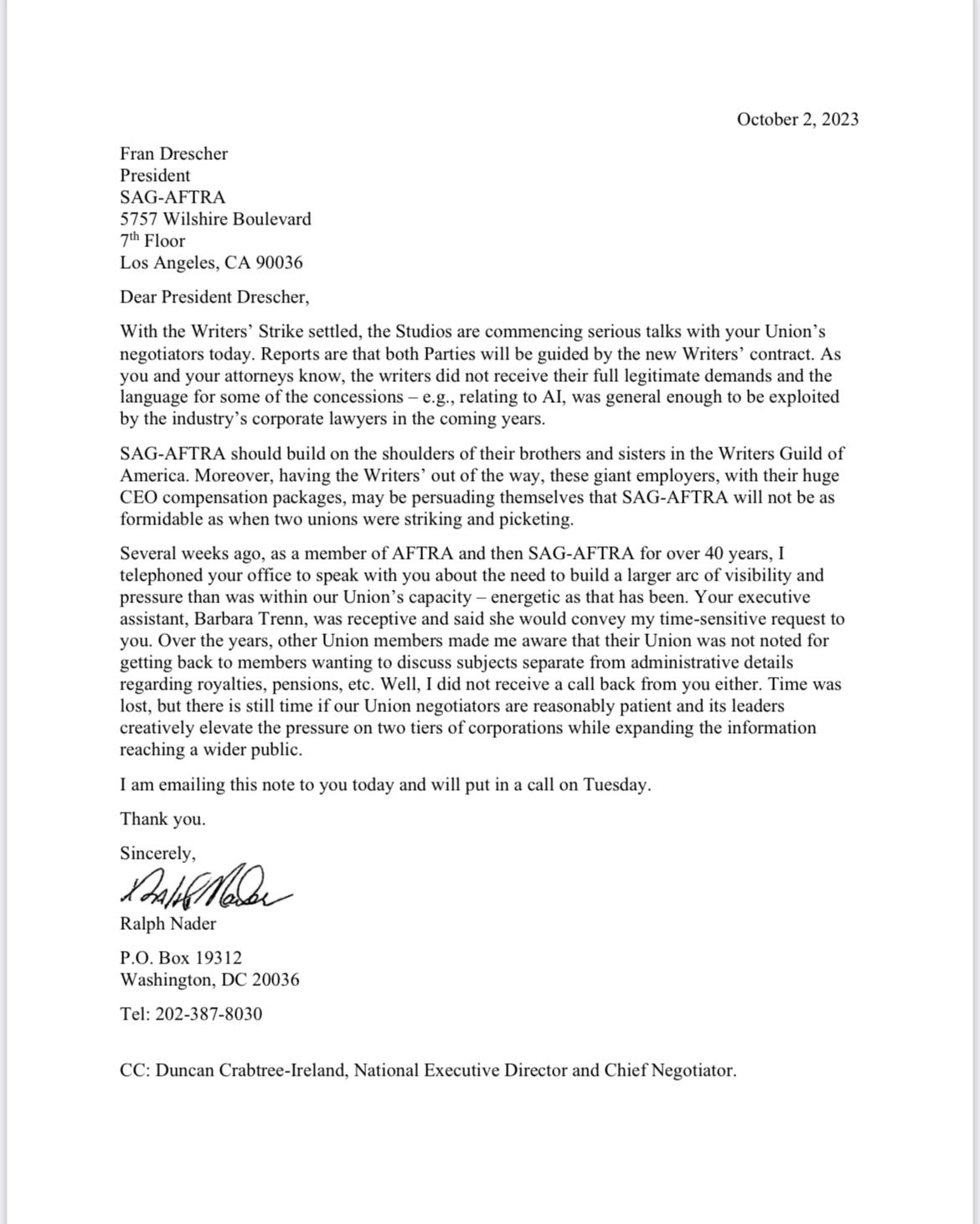 ---
Nader is no stranger to fighting for regulation over quick-moving technologies — the attorney's 1965 book, Unsafe at Any Speed, challenged the American makers of bigger, shinier, faster cars and ultimately prompted the creation of what is now known as the National Highway Traffic Safety Administration. Less than a year after the book's publication, Nader would find himself at the White House, watching President Lyndon B. Johnson sign into law two major motor safety bills. 
On the SAG-AFTRA front, though, he's hit a bit of a wall. Nader has called up Warren Beatty, "who I've known for a long time," and his letters have gotten as far as Drescher's executive assistant. At one point, he had managed to get a meeting on the books with Drescher and chief negotiator Duncan Crabtree-Ireland over the last month, but it was postponed twice and is now indefinitely delayed. (A union official confirms that a meeting was on the calendar but was canceled due to the ongoing negotiations.)
---
"A SECOND LAYER OF PRESSURE"
On the other point where Nader feels that SAG-AFTRA isn't playing the negotiation game quite right, he wants the union to enlist longtime labor organizer and activist Ray Rogers, who, for the uninitiated, has sparred with forces far greater than a handful of studio CEOs.
"He develops a second layer of pressure on the employers who are at the negotiating table," says Nader. "He does this in a large variety of ways, interlocked directorates, bank executives, Black Rock, JP Morgan."
Rogers' war stories are legion, and the 79-year-old is happy to tell them. In his thick Boston accent, the Beverly, Mass. native recounts being tackled and bloodied at shareholder meetings, advising farm workers in tobacco fields, going toe-to-toe with CEOs, and staring down "a double-barrel shotgun in my face." According to a 1985 story in The New York Times, Rogers became "a hero of near mythic proportions with the union rank and file" in the '70s and '80s for his organizing efforts versus textiler J.P. Stevens — the labor battle that was memorialized in Sally Field's Oscar-winner Norma Rae. His work with a Minnesota meatpackers union against Hormel in the '80s was the subject of the Oscar-winning documentary American Dream, from filmmaker Barbara Kopple. 
Nader and Rogers have developed something of a friendship over the years, and the two men have been talking "almost every day" in recent weeks, says Rogers, calling his fellow activist "the man of greatest integrity." About an hour into our conversation on Tuesday night, Rogers says he's getting a call from Nader, and we adjourn. The next morning, he tells me that Nader had rang again, this time around midnight, to ask who had won the Diamondbacks game. Nader was rooting for the Phillies. 
Rogers' friends and neighbors in East Harlem who work in entertainment have approached him about getting involved in the strike. In New York, the tales of woe he hears echo those happening out here in Los Angeles — second and third jobs, financial hardship, worries about having to leave the industry. 
"It's not about getting a good contract, it's about the quality of life," says Rogers, who has been out on the picket lines several times over the course of the writers' and actors' work stoppages and says he's spoken to Susan Sarandon about the strike. While he hails Drescher as possibly being the "next Norma Rae" and praises her fiery rhetoric, the self-described pioneer of the "corporate campaign concept" has a few suggestions.
"Look, you're running a traditional strike — you're basically trying to starve a bunch of billionaires into submission and they're going to do the same to you," he says. "You've got all these strikers out there. Workers have a lot of power… you've got some people and all they wanna do is strike, strike, strike, [but] when workers decide to withhold their labor they're taking a chance on losing their jobs. It's a heckuva thing to take on and the union needs a strategy that needs to empower the workers." 
---
NEARING AN END?
As of Day 104 of the actors strike, with talks stopped and revived, SAG-AFTRA and its 40-plus strong negotiating committee are scheduled to head back in the room on Thursday with the Alliance of Motion Picture and Television Producers, which reps the major Hollywood studios.
One source familiar with the studios' thinking prior to this week says that, "SAG has been unwilling to negotiate. It was only when the WGA indicated that they would finally negotiate did things start to move fast." Another person close to the talks says Tuesday's talks centered more on money issues than AI issues. 
The Writers Guild of America and SAG-AFTRA combined have more than 170,000 members, manpower that could "organize a revolution, let alone win a strike, but you gotta have an A-to-Z strategy," says Rogers. "A is the beginning, Z is total annihilation." 
While noting the effectiveness of modern strike messaging on social media, Rogers and Nader separately talk of adding pressure to the studios, in part by analog means that might raise eyebrows among younger union members: shrink-wrapped stacks of pamphlets for strikers to hand out at picket lines to passersby and local residents, for instance, or the above-mentioned pressure on colleges and universities whose boards include studio execs. Rogers sends me two informational brochures he's designed, one of which accuses Hollywood elites of "operating like a criminal syndicate with impunity."  
Rogers "applauds the conviction" of Drescher and Crabtree-Ireland, and acknowledges that unions such as the Writers Guild of America have brought their concerns to the boards of major public pension funds that have stakes in companies including Disney and Netflix. But he thinks the guilds would be better off looking to apply pressure to institutional investors like banks and asset management firms. 
"Everyone understands that you build power through organization, but few understand that you can wield great power by disorganizing existing patterns of power supporting management and form new patterns of power more directly aligned with the employees' and their union's interests," Rogers later adds by email, in addition to understanding "how to divide and conquer the web of corporate, financial and political power that supports these companies stonewalling in negotiations." 
"SAG-AFTRA should build on the shoulders of their brothers and sisters in the Writers Guild of America," reads part of Nader's Oct. 2 letter to Drescher and Crabtree-Ireland. "Moreover, having the Writers out of the way, these giant employers, with their huge CEO compensation packages, may be persuading themselves that SAG-AFTRA will not be as formidable as when two unions were striking and picketing." 
Meanwhile, Nader isn't hesitant to dole out an opinion on other matters when asked, whether that's the third-party political group No Labels ("That's really a lot of mischief"), independent presidential candidate Robert F. Kennedy, Jr. ("When it comes to Bobby Kennedy, I never would say to him, 'Don't run'") or the Democratic Party ("They tout themselves as civil liberties champions, except when it comes to progressive third-party candidates, then they become crazies"). 
As a four-time presidential candidate himself, Nader says that even if he disagrees with a politician's stance, "I never say to people 'Don't run,' no matter who they are. Because I never tell people to shut up. And running for office is a triple use of the First Amendment: speech, assembly and petition." 
As for union leadership, "they seem to be strong in their rhetoric," he says. "but I'm not impressed by their lack of returning calls to people who have something to convey to them."