Discover more from The Ankler.
Don't eat lunch in this town without it
Over 62,000 subscribers
ICYMI: Judy Blume's 50-Year Search for Kelly Fremon Craig
Catch up on our recent best
It was a rare week when Hollywood's focus was not on itself, as the industry stayed glued to news from the Middle East. Even the disappointing breakdown in SAG-AFTRA talks couldn't divert people's attention from coverage of the aftermath of the horrific attacks on Israel, and the looming crisis in Gaza.
Richard offered some thoughts on the role Hollywood might play in dark times, arguing that more than ever, the world needs alternatives to cruelty and nihilism:
More and more of what we put out seems factory-made, its humanity, the humanity of the storytelling eclipsed. And if humanity is going to survive, it needs storytellers to show us why this thing called the human experience still means something.
Which is perfect segue to legendary storyteller Judy Blume, who joined The Ankler's first In Conversation: Page to Screen event in Santa Monica yesterday with Are You There God? It's Me, Margaret director Kelly Fremon Craig. The classic story includes talk of breasts and periods, yes, but also a subplot about 11-year-old Margaret's mother's estrangement from her own Christian parents after marrying Margaret's father, a Jewish man. You can watch 11 minutes of their feel-better-about-life conversation, moderated by Janice.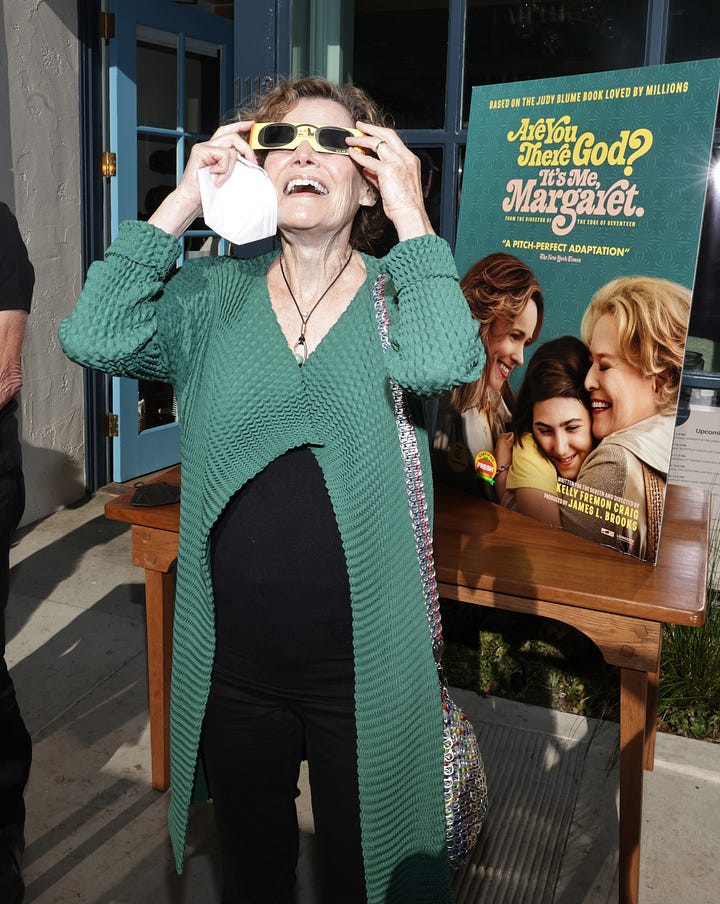 ---
---
ALSO THIS WEEK…
---
---
---
☀️The Wakeup
---
🎧 Podcasts
If you like our shows, please subscribe on the podcast app of your choice. It's the fastest and easiest way to hear our series, and helps us grow our audience.
According to Jonathan Taplin, author of The End of Reality, Hollywood is currently up against four Silicon Valley billionaires Peter Thiel, Mark Zuckerberg, Marc Andreessen and Elon Musk. He argues that 'The Four' are wreaking havoc yes, on politics and economics, but also popular culture by creating their own model of escapism, a role once filled by Hollywood.
THE ANKLER
Transcript here
---
Rob Long on how to get our creative engines restarted after the end of the eternal writers strike:
MARTINI SHOT
Transcript here
---
---