Discover more from The Ankler.
Don't eat lunch in this town without it
Over 62,000 subscribers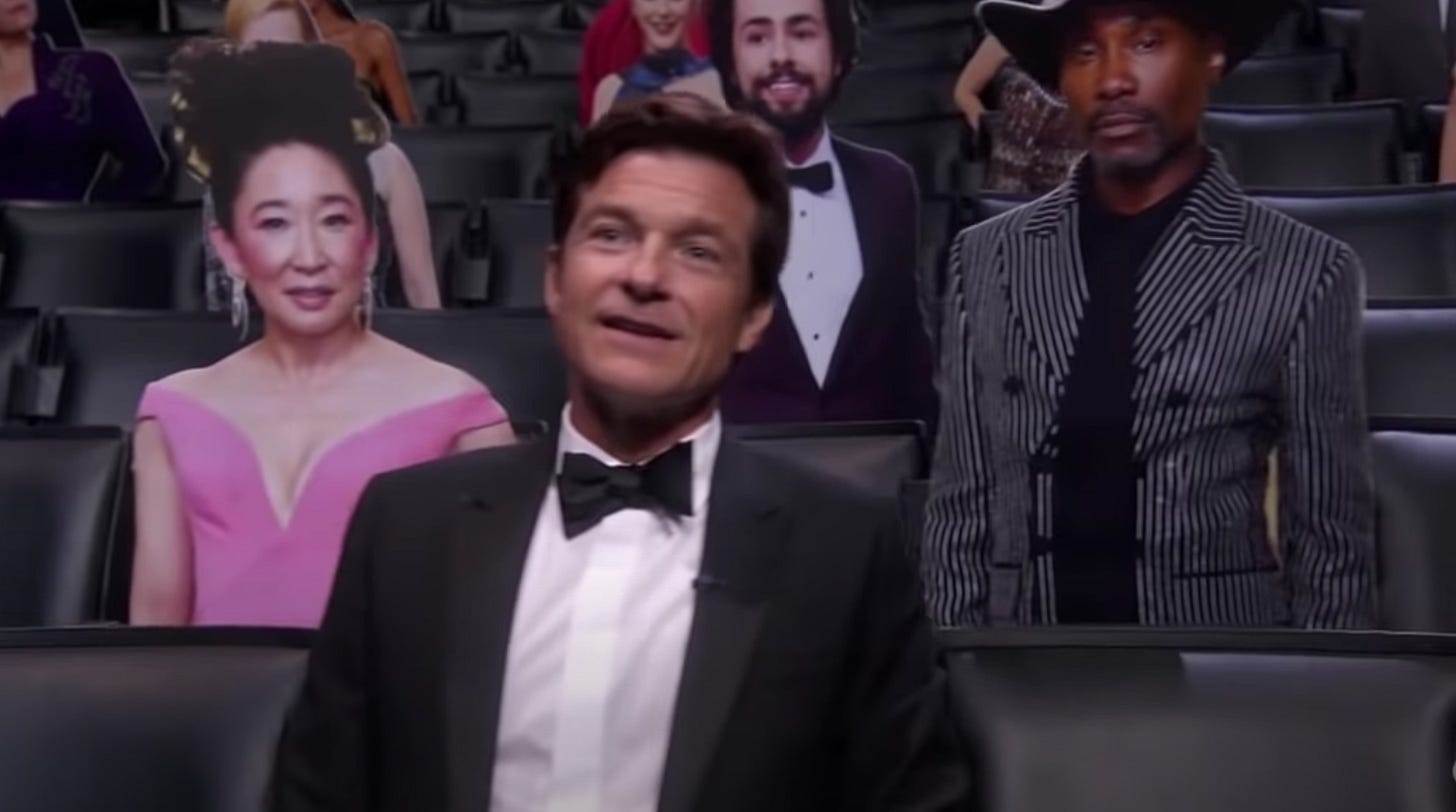 It took a pandemic for Hollywood to embrace the dictates of "We need fun."
The credo pronounced by host Kimmel—"What's happening is not important but it's fun. And we need fun."—at the top of the show was just about the polar opposite of the guiding principle of every awards show for the past decade. From the Oscars to the MTV Awards, when you've turned on a kudos fest of late, the hosts have all but opened with the declaration that "What you're about to see is not going to be a whole lot of fun, but we've decided that it's important for you sit through five hours of it."
Which has predictably sent viewers running not just from the awards circuit, but from Hollywood itself.
What worse advertisement could you have for an industry and its products, and the people behind it, than these multi-hour pageants of fantastically rich people wallowing in self-regard and swooning to the sound of their own virtue signaling?
So last night's Emmys were far from perfect: Even in this format they are still fantastically too long, unthinkably too long. Way too many categories, with extra nominees in each—why don't they just read out the IMBD page for complete production over the past 12 months?
Seriously, though, has anyone involved in these seen what entertainment looks like in 2020? Three seconds is an eternity. I defy you to sit through two 30-second TikTok videos without swiping onward like a death row prisoner lunging for freedom when a guard leaves the cell door unlocked.
A straight minute these days looking at one screen feels like Der Ring des Nibelungen.
And they expect anyone to sit through three hours of speeches? This is becoming pathological, even if we weren't supposed to be entertainers.
So, yes, still much too long. Fantastically too long. But beyond that, it turned out that the Zoom format acted as a brilliant pomposity blocker. There's only so fatuous and full of yourself one can be staring into your own webcam, all alone without an auditorium giving thunderous applause to the writers of this year's best TV movie or whatever.
Sure, there were goofy and clunky bits—such is the nature of variety-show comedy—but taking a sledgehammer to the giant arena of self-love is such a long overdue act. It felt like such a breath of fresh air that it's suddenly impossible to imagine how you go back to that.
The pandemic reveals the things that had long since stopped working, that were surviving on inertia and habit but had long since taken leave of their mission.
The political conventions and the awards shows are the two most obvious beached whales of national culture, long past the point where they could help even themselves, their stench clearing the sands around them. These giant bloated pageants of self-congratulation by the rich and famous are just not going to fly anymore. The door has closed, for now, on the aspirational moment of celebritydom. The best those shows can hope for is a lot of mixed up envelopes and pratfalls by stars walking up to the stage to give the people something to laugh at.
The Kimmel Emmys took a wrecking ball to the whole thing, long overdue, and as a result felt fresh, direct, funny, and likable. A nice example for all Hollywood.
As for the winners, a couple of contradictory thoughts. On the dramatic front, it shows that HBO is still HBO. Everyone else can try, but no one has mastered the template for Big Production Value TV drama that gets the media classes chattering like HBO. That one network could create and produce Succession, Watchmen, and Euphoria in one year is pretty extraordinary now that you think about, given how different those series are from each other.
Here's an idea ready for its green light! Why not give the mogul or the mogul to be in your life the gift that will keep them plugged into the secret rumor mill of Hollywood. Give the gift that will keep on bailing them out – the gift of The Ankler.
The one note however: All those shows were incubated in the Plepler era, pre-Stankey shake-up, pre-Max directives. Whether the machinery still exists to produce the next round of the same remains TBD.
As for comedy, the best comedy category now seems to be the TV academy's "You gotta watch this" recommender zone, with no juggernaut like Veep on the scene to dominate year after year. A shame that the show they recommended this year has ended its run, but nice to see Schitt's rewarded.
And it also shows that Netflix is still Netflix. It might strike out going head to head with HBO on the big prestige front, but when it comes to the library, to the browsing room function, they are a sector unto themselves. Schitt's may have been produced by Pop TV and the CBC, but Netflix is where the world saw it and now will keep seeing its six-season catalog.
The Service may not have earned those awards the old-fashioned way, but now they've got them. As Major General Stanley says in Pirates of Penzance, showing visitors around the chapel of his newly purchased estate, "Frederic, in this chapel are ancestors: You cannot deny that. With the estate, I bought the chapel and its contents. I don't know whose ancestors they were, but I know whose ancestors they are."
A good night for Hollywood. Just keep that wrecking ball swinging.
If you're just receiving this edition of The Ankler from a friend, press below to subscribe. You never know who'll be in The Ankler Hot Seat tomorrow…
The Ankler's Got People Talking!!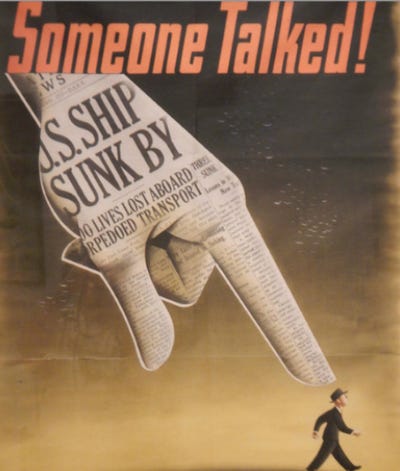 IF YOU SEE SOMETHING, SAY SOMETHING The Ankler looks to you! to help us be the eyes and ears of this great industry! Got a crazy email from your boss? See a major poobah have a meltdown in the commissary (or forget to tip)? Just had the worst story notes meeting of your career? Heard a rumor that the Big Guy is packing his office? Did they change the name of a conference room on your hall? As in all detective work, no tip is too small. Help The Ankler tell the world. Send your tips to richard@theankler.com or, with end-to-end encryption on whatsapp and Signal. (Msg me for the number). And of course, ping me on gchat at richardrushfield anytime day or night. Confidentiality guaranteed on pain of death.
EDITORIAL POLICY: If you have been the subject of a piece on the Ankler and you would like to respond, the Ankler will be delighted to print your reply in full. Please send your response to richard@theankler.com.
If you are interested in advertising on the Ankler: Write us at ads@theankler.com for rates and info.
The Ankler is Hollywood's favorite secret newsletter, an independent voice holding the industry's feet to the fire. If you're a subscriber, feel free to share this edition with a friend but just a couple, please. The Ankler depends on its paid subscribers to keep publishing.
If you've been passed along this issue, take the hint and get on the train. Find out what everyone's whispering about! Subscribe now!
And if you enjoyed this issue, feel free to press the little heart down below, which helps alert others to the wonders of The Ankler.