Discover more from The Ankler.
Don't eat lunch in this town without it
Over 59,000 subscribers
Ankler Preview: Max Men
To The Max!
I suppose it would be bigger news if you went six months without a major shakeup at Warners. For the past decade, you could say about management at Warner Media (formerly Warner Bros, AOL Time Warner, etc) what they say about weather in Iowa: If you don't like it, just wait ten minutes.
Bloodletting is in the water at that company. But this round did feel like something more than the latest management shuffle and—given that it let go of a quarter of its staff along with the high-profile beheadings—more like a permanent rearrangement of a legacy studio to become a Great Streaming Wars entity. This is perhaps the first of the legacy studios to undergo this violent transition, if it takes.
Much to consider here but the first thing that leaps out at me: A lot of studios have huge spectacular failures like the launch of HBO Max (although this huge and spectacular is something of a novelty.) But I was trying to recall another time in the history of Hollywood, going back to the DeMille barn, when a failure was followed by the top people responsible actually being fired in short order. I wracked my brain and couldn't come up with another example. (Reader submissions sought!)
Can you imagine a more dangerous precedent? Executives being held accountable for the results of their work? Not just five years later when the entire company is collapsing and they are shuffled off to a very comfortable producing deal. But actually immediately and quickly shoved out the door just because of one little cataclysmic failure in the company's most important initiative? What is this world coming to!
So either Jason Kilar means business, or things are that dire. Or both.
But let's take a step back and view this within the historical perspective. As we say, executive shuffles are the rule not the exception at WarnerMedia. For ten years now and counting, the studio has staged Hollywood's equivalent of the 30 Years War, with successive generations standing in to pick up the fight of slain comrades.
From its very birth, the Warner lot was rife with strife and in-fighting. Despite the studio's fraternal branding, no one since has fought more viciously than the Brothers Warner themselves, who could barely look at each other and ruled their various fiefdoms as warring duchies within the empire.
But the current hostilities date back to one decision 10 years ago, one that kicked off an internal war that never seems to end.
After a period of peace, tranquility, and a fairly dominant position in the 90's and into the 2000's, the modern inciting incident from which the studio has never recovered is the 2011 firing of Alan Horn, described then by the NYT thusly: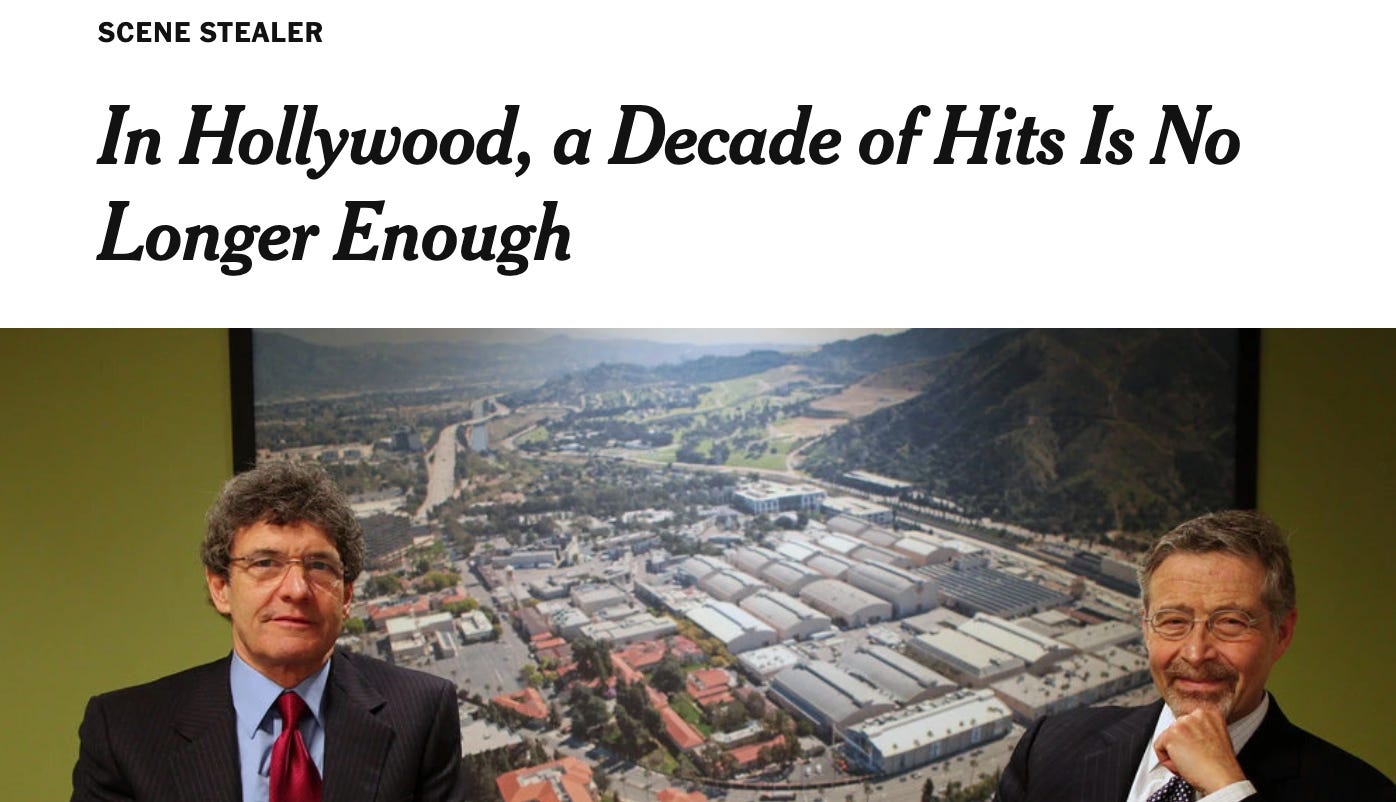 (Then again, this was how Nikki Finke, then in her prime, described Horn's position at Warners just before the dismissal: "Distracted and depleted Horn is just as stubborn: he won't relinquish control of the film studio.")
When we look back at the decade that has followed for Warners since, and the decade that has followed for Alan Horn, I think it's safe to say that it's been a long time since any executive has enjoyed such a full plate of revenge.
What followed at Warners all but institutionalized back-stabbing in the culture. Time Warner CEO Bewkes decreed a public bake-off between Jeff Robinov, Bruce Rosenblum, and Kevin Tsujihara for the top job, guaranteeing a year of in-fighting, where one would prevail—and two of the top honchos would have to go.
When Tsujihara ultimately came out on top, he was so hobbled by the unseemly process that had got him there and the atmosphere of flying guillotines that he was never able to stop the blood-letting. Each member of his first green light troika—consisting of himself, Greg Silverman, and Sue Kroll—all eventually fell as Warners releases became synonymous with credit hogging and blame-casting, as vital corners of the studio withered away. The tradition continues on the lot to releases in present day. See: Joker, The (2019).
On top of that, throw in a brand new owner, just riding in from Texas to show these wise-asses how we get the job done, and a little ol' streaming war to disrupt the entire business. Not to mention an international pandemic.
This has been a preview of today's edition of The Ankler, the industry's underground newsletter. To read the rest of the secret history of Warner Media, and everything else shaking in this week's issue, subscribe today for just $10 a month.
This is a preview from today's edition of The Ankler, the secret news of Hollywood. Want to see it all? Click below to subscribe. You never know who'll be in the Hot Seat tomorrow…
If you are interested in advertising on the Ankler: write us at ads@theankler.com for rates and info.
Enjoy this issue? Why not click on the little heart below so it can surfaced to others in the Substack universe. Or better still - share it with the world!